Affordable, efficient cogeneration boiler
Not only is Enviro Power's LPG cogeneration boiler, known as the SmartWatt Boiler, competitively priced, but it also generates inexpensive electricity and offers customers backup power. Consequently, the next-generation, propane-based heating system will have a significant impact on the distributed energy market.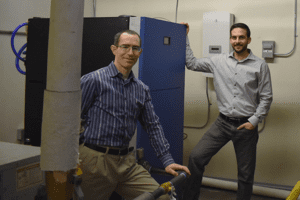 "Imagine what it means for the consumer – their next heating system, a product every home has, will generate electricity at their home and for their home while also providing unlimited backup power," Nadav says. "And imagine what it means to utilities, as well as grid operators. Now that the power grid is more resilient with a propane-based heating application, which can generate electricity when the grid needs it, the expensive peak load, as well as the grid balancing costs, will be reduced."
The need for unlimited backup power is apparent. According to Nadav, 41 percent of all energy consumed at homes is related to heating. Thus, the role in which home-based heating systems can have on energy consumption management is significant.
"When aggregated, the SmartWatt Boiler creates a virtual power plant or, as we call it, a virtual regulated network (VRN)," Nadav says. "The VRN allows the grid operator or power utility to signal the SmartWatt Boiler to turn on and generate electricity at the time of a peak load, and avoid the operation of very expensive peaking units that also have high carbon footprints. Therefore, millions of propane customers can participate in providing balancing services (that are paid for) to the grid."
Nadav believes the SmartWatt Boiler, designed and developed by Enviro Power founder Mike Cocuzza, is a win-win for end users and propane marketers alike. Because kilowatt hours of propane are less expensive than kilowatt hours of electricity, consumers will be able to reduce their electricity payments and utility bills considerably. Not to mention, the SmartWatt Boiler operates at 95 percent efficiency, so consumers will decrease the carbon footprint of their homes.
Designed to generate six kilowatt hours of electricity, provide 175,000 kilowatt hours of heat output for every hour of operation and consume nearly 2.2 gallons of propane per hour, the SmartWatt Boiler is currently available for piloting. It will likely be released to the public in 2020 after further pilots are conducted.
"It will be ideal in areas with high demand for heating, as well as in applications that require domestic hot water year-round," Nadav says. "The more hours it operates, the more savings it generates, so it will definitely be ideal for apartment buildings, car washes, fitness centers, nursing homes and restaurants."
For the full article, CLICK HERE.