Transforming  heating infrastructure
to produce clean energy
Enviro Power's SmartWatt boiler technology uses heating infrastructures as a distributed energy resource platform, offering millions of buildings with onsite access to cleaner and easy-to-store electricity.
The SmartWatt Boiler technology is designed around the geometry of a heating system with a similar cost structure and identical maintenance cycle compared to regular condensing boilers. Profoundly different from other micro combined heat and power (mCHP) solutions, it converts excess heat into useful electricity and increases energy resiliency with no added infrastructure needed.   
An easy-to-install replacement for existing boilers, the SmartWatt Boiler works with multiple energy sources, including hydrogen and renewable natural gas (RNG), and adheres to power load guidelines at the building and grid levels. Manufactured completely in the U.S. and distributed in partnership with Burnham Holdings, one of the nation's largest boiler manufacturers, and designed in partnership with Windings Inc., a leading firm with decades of experience, the SmartWatt Boiler is ETL-certified under UL standards.
Burnham recently launched serial production of the SmartWatt Boiler SW300-6 boiler model, making it one of the only commercialized hardware energy-saving technologies available for building owners.
5:1 Turndown Ratio

Durable 316 Stainless Steel Heat Exchanger for hot water production

Low NOx combustion technology

Compact Footprint

Sealed electrical power production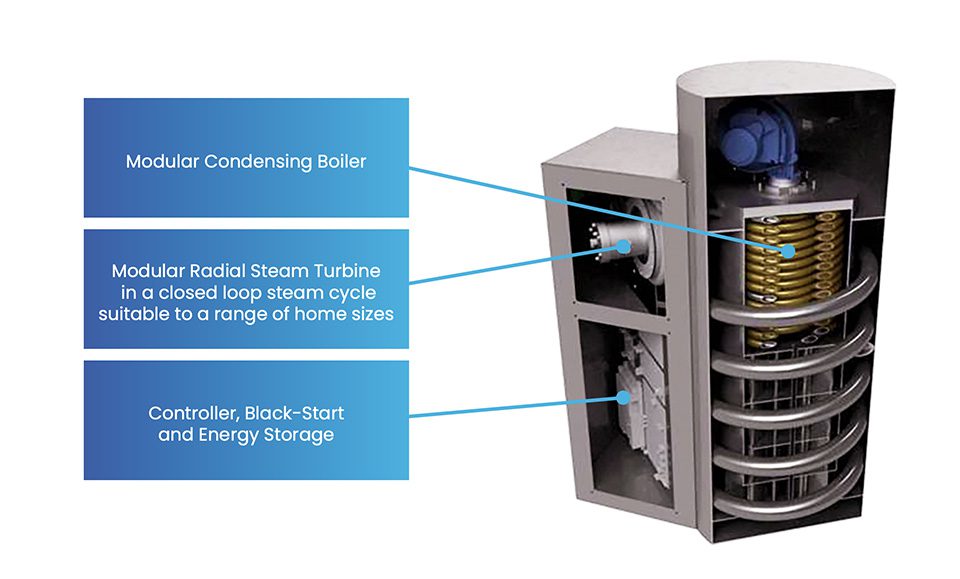 Electricity Generator
Maintenance free, steam-driven electricity generator
Energy Storage
Providing continuous backup power through energy storage and black start platform
Fuel Train/Burner
Low NOx burner and blower
Combustion Chamber
Patented dual-fluid combustion chamber
Economizer
Heat recovery external water loop, maximizing fuel efficiency
Condenser
Latent heat recovery from steam turbine exhaust
External Hot Water Loop
Hot water loop for heating: cold water return/hot water supply