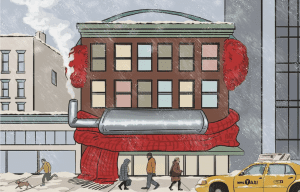 https://commercialobserver.com/2022/10/heating-technology-winter-proptech/
Some proptech firms are seeing a sharp rise in business from office and multifamily owners looking to cut rising costs
Across the Northern Hemisphere, the prospect of warding off winter's chill has become more concerning as inflation, supply chain snarls, the war in Ukraine and other geopolitical upheaval drive up the cost of fossil fuels used to heat homes and workplaces.
A number of property technology companies are attempting to bring those costs down. At the same time, they aim to satisfy the growing demand from the public and private sectors for cleaner energy for the good of the environment and the financial bottom line. Some specialize in making belching, old heating systems more energy efficient; others zero in on where owners are wasting energy. 
Among the proptech firms attempting to reduce the cost of heating homes and offices through new technology is Enviro Power, which makes "a boiler with a power plant inside," said Dan Nadav, the company's CEO.
"Our vision is to replace all the aging, inefficient and failing boilers that are being replaced at the rate of 10 million systems every year between here and Europe with our SmartWatt Boiler, which is designed to harvest the heat that is otherwise lost by the boiler in order to generate electricity," Navdav said. "We generate electricity with no additional fuel compared to what we replace, which means that we generate electricity at no additional cost, no additional CO2 emission, resulting in a significant reduction of energy cost and carbon emission footprint for the landlord."
Founded in 2013, the South Windsor, Conn.-based company's "boiler geometry," as Nadav calls it, uses a closed-loop steam turbine cycle with two heat exchangers. This transforms the existing heating infrastructure into a cogeneration system that combines the heating and power functions in homes and businesses.
"Our product is tailored specifically to multifamily apartment buildings, but there is no size limitation for this technology," said Nadav. "It could be very large boilers with large capacity to generate electricity, and, on the other end, smaller ones that will literally fit in your apartment."
Enviro Power is not the first company that thought of combining heat and electric generation in the same machine. The idea evolved from car companies like Volkswagen, Toyota and Honda trying to force a generator onto a heating system. However, the problem was that capturing car engine exhaust heat was highly inefficient when applied to boilers.
"An engine is not a heating system," Nadav said. "Engines are made of around 2,000 to 3,000 parts, while boilers are made of 200 to 300 parts. Engines are quite expensive and not as reliable as heating systems' boilers, which are highly reliable, very simple machines. So our thought was completely the other way around. Why not try to start creating power not from the engine, but actually from the boiler?"